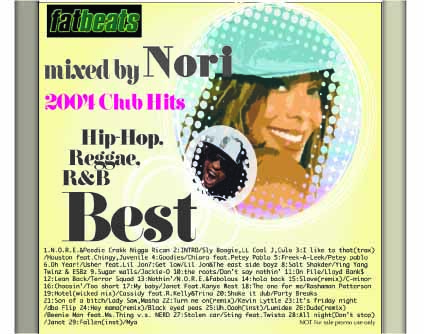 The CD hits you with that heavy rotation from the radio and clubs, with new joints
from Petey Pabro, Lil Jon, Kanye West, LL Cool J, Ying Yang Twinz, Usher,
Keys, Juvenile, Lloyd Banks,Janet ...
Comin' With The Strictly Radio Flavor
---
試聴 listen!
N.O.R.E. & Peedie Crakk
Intro / Sly boogie, L.L. Cool. J , Culo,
I like that Bounce to this, / Houston feat. Chingy, Juvenile
Goodie / Ciara FEAT. Petey Pablo
Freek-A-Leek / Petey Pablo
Oh Year! (Wicked remix) / Usher Feat.Lil Jon
Get low (inst) / Lil Jon & The East Side Boyz
Salt Shaker / Ying Yang Twins Feat. Lil Jon&The east Side Boyz
Sugar Walls / Jacki-O
The roots / Don't say nothin
On fire / Lloyd Bank$
Lean back / Terror squad
Nothign / N.O.R.E. & Fabolous
Hola back Gal
Slave remix / C-minor
Choosin' / Too short
My baby / Janet Jackson Feat. Kanye West
The one for me / Rashamn Patterson
Hotel (Wicked beat remix) / Cassidy Feat. R.Kelly&Trina
Shake it Dub / Party Break
Son of a bitch / Lady Saw, Marsha
Turn me on(remix) / Kevin Lyttle
It's Friday night / dba Flip
Hey mama(remix) / The Black Eyed Peas
Uh Oooh (inst)/ Lumidee
Dude (remix) / Beenie Man Feat. Ms. Thing vs. N.E.R.D.
Stolen Car / Sting Feat. Twista
All night(Don't Stop)/Janet
Fallen (inst) / Mya
order
designed by digifly